Pointillism Paintings – Fresh Air – Calgary Artist Jim Pescott is Painting in a Fresh Air Studio
Photographs source my paintings.
For many years, I have paint in my studio from my photos taken during walks in the woods.
But recently, I bought a sketch box with a tripod. I was responding to an urge to move my studio outdoors as the summer weather brought sunshine and warm days. Artists call this plein air painting, or simply painting outdoors.
A traditional plein air painting happens 'on location' over a fairly short time, but my painting style is pointillism and my paintings take quite awhile. So, to paint outside in the woods, I need to find some middle ground to accomplish painting in the fresh air.
This is My First 'Fresh Air' Studio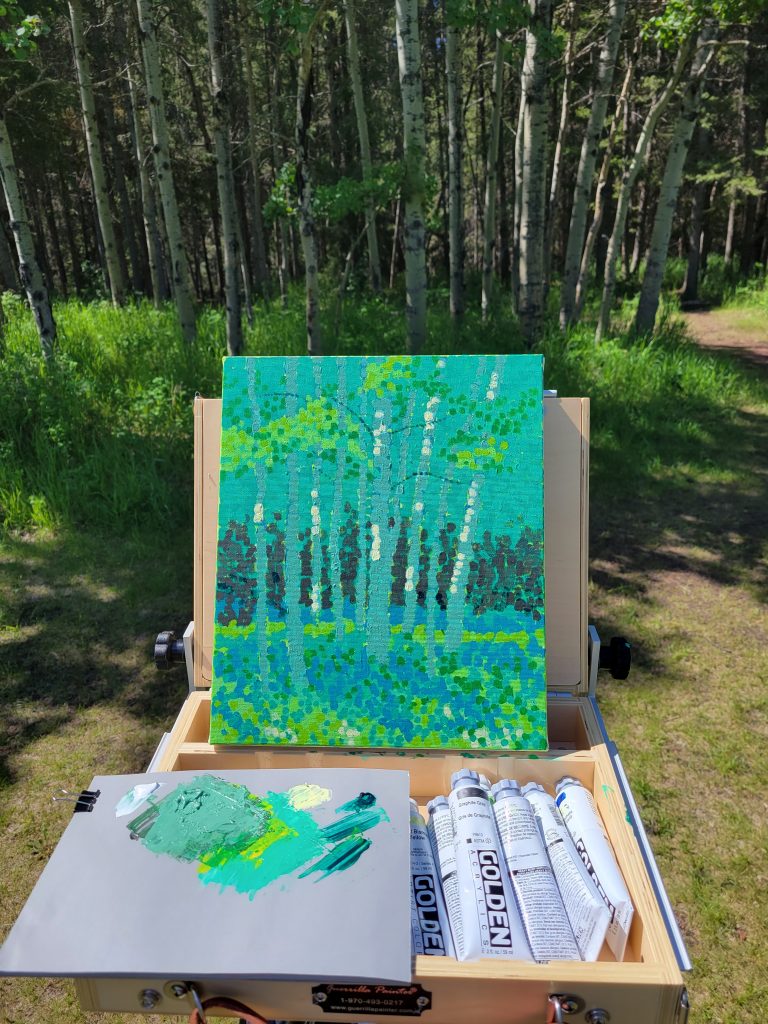 My first step is to simply go for a walk and enjoy my surroundings. The size of my outdoor studio is limitless.
Next, I need to find a subject to paint. The location will be very much like a scene I would photograph except this time I will paint it.
I often notice interesting groups of trees. There seems to be a friendship between trees in groups and I love painting this energy .
Painting Outside
My sketch box and tripod are now set up well and soon I am painting dots on 10″x12″ canvas as I listen to birds songs. In my studio, I often have radio music playing but here in the woods the birds are my radio. It is lovely.
I use acrylic paints and now I see the colour blobs on my palette are drying quickly. I didn't plan for this will try to find answers for next time. For now I will keep painting and add a little water with my brush to help keep things fluid.
Soon an image is appearing on the canvas. The first layer of dots happened quickly and the second layer identifies the stand of trees. Layers three and four bring a sense of foliage and sunlight.
Lots more Dots
Once finished, my paintings can involve from 12 to 15 layers of dots. Here in the woods, I have lost track of time as I paint outside but I do know lots more dots need to happen. This painting will receive the last layers back in my studio at home.
Painting in the fresh air allows me to start some paintings in natural surroundings.
If I have a second blank canvas with me I simply pack up my sketch box and tripod to move to a new location.
Painting outside makes for a very good today. I enjoyed lots of trees, bird songs and beams of sunlight.
You can see my original paintings here